Documentary films are powerful, multi-sensory experiences that help students build social and emotional awareness and connect to current events, cultures, crucial social and political issues, and beliefs beyond their own. Addressing important themes such as identity, resilience, dedication, equality, and courage, the Film Spark documentary collection helps build empathy and showcases new voices and topics relevant to young people today. These curated global stories are selected to initiate meaningful classroom discussions and activities, and ultimately lead young people to develop their own voices and become more successful students and productive citizens.
Providing engaging video content and supporting the development of communication, critical thinking, media literacy, social action, and media creation, the Film Spark series is also paired with Educator Study Guides for grades 6-12.
Film Spark is made possible by the generous support of community sponsors.
Get Film Spark
For more information please email Rick Wray with Utah Film Center Education
rwray[at]utahfilmcenter.org
Films: Volume 1
A BRAVE HEART
Directed by Sara Hirsh Bordo
78 min | 2015 | USA | PG-13
A Brave Heart: The Lizzie Velasquez Story is a documentary following the inspiring journey of 26-year-old, 58 pound Lizzie from cyber-bullying victim to anti-bullying activist. Born with a rare syndrome that prevents her from gaining weight, Elizabeth "Lizzie" Velasquez was first bullied as a child in school for looking different and, later online, as a teenager when she discovered a YouTube video labeling her "The World's Ugliest Woman." The film chronicles unheard stories and details of Lizzie's physical and emotional journey up to her TEDx talk, which has been viewed millions of times, and follows her pursuit from a motivational speaker to Capitol Hill as she lobbies for the first federal anti-bullying bill.
BROOKLYN CASTLE
Directed by Katie Dellamaggiore
101 min | 2012 | USA | Rated PG
Brooklyn Castle tells the stories of five members of the chess team at a below-the-poverty-line inner city junior high school that has won more national championships than any other in the country. The film follows the challenges these kids face in their personal lives as well as on the chessboard, and is as much about the sting of their losses as it is about the anticipation of their victories.
BULLY
Directed by Lee Hirsch
98 min | 2011 | USA | PG-13
Bully is a beautifully cinematic, character–driven documentary. At its heart are those with huge stakes in this issue and whose stories each represent a different facet of America's bullying crisis. Filmed over the course of the 2009/2010 school year, Bully opens a window onto the pained and often endangered lives of bullied kids, revealing a problem that transcends geographic, racial, ethnic, and economic borders. It documents the responses of teachers and administrators to aggressive behaviors that defy "kids will be kids" clichés, and it captures a growing movement among parents and youths to change how bullying is handled in schools, communities, and society as a whole.
THE CRASH REEL
Directed by Lucy Walker
108 min | 2013 | USA | Not Rated
This film seamlessly combines twenty years of stunning action footage with new specially–shot verité footage and interviews as it follows U.S. champion snowboarder Kevin Pearce and exposes the irresistible, but potentially fatal appeal of extreme sports. An escalating rivalry between Kevin and his nemesis Shaun White, in the run–up to the 2010 Olympics, leaves Shaun on top of the Olympic podium and Kevin in a coma following a training accident in Park City, Utah. Kevin's tight–knit Vermont family flies to his side and helps him rebuild his life as a brain injury survivor. But when he insists he wants to return to the sport he still loves, his family intervenes with his eloquent brother David speaking for all of them when he says, "I just don't want you to die." Kevin's doctors caution him that even a small blow to the head could be enough to kill him. Will Kevin defy them and insist on pursuing his passion?
HE NAMED ME MALALA
Directed by Davis Guggenheim
88 min | 2015 | USA | Rated PG-13
He Named Me Malala is an intimate portrait of Nobel Peace Prize Laureate Malala Yousafzai, who was targeted by the Taliban and severely wounded by a gunshot when returning home on her school bus in Pakistan's Swat Valley. The then 15-year-old was singled out, along with her father, for advocating for girls' education, and the attack on her sparked an outcry from supporters around the world. She miraculously survived and is now a leading campaigner for girls' education globally as co-founder of the Malala Fund.
I LEARN AMERICA
Directed by Jean Michel Dissard & Gitte Peng
92 min | 2013 | USA | Not Rated
In I Learn America, five resilient immigrant teenagers come together over a year at the International High School at Lafayette and struggle to learn their new land. The International High School is a New York City public school dedicated to serving newly arrived immigrant teenagers, with more than 300 students speaking two-dozen languages from 50 countries. The students strive to master English, adapt to families they haven't seen in years, confront the universal trials of adolescence, and search for a future they can claim as their own.
LOUDER THAN A BOMB
Directed by Greg Jacobs & Jon Siskel
99 min | 2010 | USA | Not Rated
Louder Than a Bomb is a film about passion, competition, teamwork, and trust. It's about the joy of being young, and the pain of growing up. It's about speaking out, making noise, and finding your voice. It also just happens to be about poetry.
Every year, more than 600 teenagers from over sixty Chicago area schools gather for the world's largest youth poetry slam, a competition known as "Louder Than a Bomb." Founded in 2001, Louder Than a Bomb is the only event of its kind in the country—a youth poetry slam built from the beginning around teams. Rather than emphasize individual poets and performances, the structure of Louder Than a Bomb demands that kids work collaboratively with their peers, presenting, critiquing, and rewriting their pieces. To succeed, teams have to create an environment of mutual trust and support. For many kids, being a part of such an environment—in an academic context — is life-changing.
THE MASK YOU LIVE IN
Directed by Jennifer Siebel Newsom
97 min | 2015 | USA | Not Rated
The Mask You Live In follows boys and young men as they struggle to stay true to themselves while negotiating America's narrow definition of masculinity. Pressured by the media, their peer groups, and even the adults in their lives, our protagonists confront messages encouraging them to disconnect from their emotions, devalue authentic friendships, objectify and degrade women, and resolve conflicts through violence. These gender stereotypes interconnect with race, class, and circumstance, creating a maze of identity issues boys and young men must navigate to become "real" men.
OPPOSITE FIELD
Directed by Jay Shapiro
100 min | 2012 | USA | Not Rated
A love letter to the game of baseball from the place you would least expect. The is the true story of the first African team to play in the Little League World Series. After three years of agonizing ups and downs, a team of 11-12 year olds win their way into the most prestigious sports tournament in the world. Filmmaker Jay Shapiro followed this baseball community from the slums and countryside of Uganda for over three years. As they embrace America's pastime (and the game's fans embrace them), the team of orphans and lost boys becomes a family, and something for the people of that poverty-stricken place to cheer for.
A PLACE AT THE TABLE
Directed by Kristi Jacobson & Lori Silverbush
84 min | 2012 | USA | PG
Fifty million people in the USA, and one in four children, don't know where their next meal is coming from. Directors Kristi Jacobson and Lori Silverbush examine the issue of hunger in America through the lens of three people struggling with food insecurity: Barbie, a single mother in Philadelphia, grew up in poverty and is trying to provide a better life for her two kids; Rosie, a fifth-grader in Colorado often depends on friends and neighbors to feed her and has trouble concentrating in school; and Tremonica, a second-grader in Mississippi has asthma and health issues that are exacerbated by the largely empty calories her hardworking mother can afford.
SPY HOP SHORTS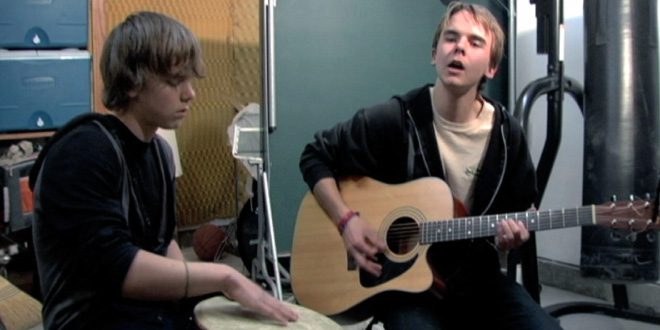 Directed by Various
70 min | Various | USA | Not Rated
Spy Hop's mission is to mentor young people in the digital media arts to help them find their voice, tell their stories, and be empowered to affect positive change in their lives, their communities, and the world. Spy Hop mentors Utah's young people in the digital media arts as a vehicle for free expression, self-discovery, critical thinking, and skilled participation. Their afterschool and community programs in film, audio, design, and music production are a model for youth development programs across the country. In 2015, Spy Hop Productions won the nation's highest honor in youth arts programming when it was awarded the National Arts and Humanities Youth Program Award by the White House.
UNBRANDED
Directed by Phillip Baribeau
106 min | 2015 | USA | Rated PG-13
Four young cowboys hatch an outrageous plot to adopt, train, and ride a string of wild mustangs for 3,000 miles from Mexico to Canada through the wildest terrain of the American West. The trip became an epic journey of self-discovery, tested friendships, and iconic landscapes that included runaway horses, a sassy donkey, perilous mountain passes, rodeos, sickness, injury, and death. Unbranded is a soaring tale of danger and resilience, an emotionally charged odyssey that shines a bright light on the complex plight of our country's wild horses.
Resources

What is a Documentary
Film & Media-Making Tools
Digital Media For Teacher Development
Aligned Curriculum Standards