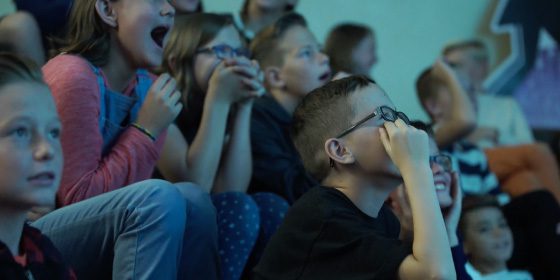 These in-classroom program offerings are for Utah public school students, grades 3rd-8th, and can be booked anytime during the school year. All opportunities are offered free-of-charge and are made possible by generous support from the Professional Outreach Program in the Schools (POPS), the Catalyst Foundation and Art Works For Kids.
Behind The Animation (50 min)
Introduce 3rd-8th grade students to animation, by exploring different types of illustration techniques through the eyes of a filmmaker. A guest filmmaker leads students through the creative process with specific attention paid to storytelling, the collaborative aspect of filmmaking, and the need for clear communication in order to create a successful film.
Based on your available room capacity, this presentation can be done for groups from a single class to a full-grade assembly.

Real To Reel (75 min)
Documentary film teaches us so much about the world. This presentation is geared toward 4th-6th grade students and focuses on exploring various styles of documentary film from how it is used to convey a filmmaker's message to how filming techniques affect our perception of the content.
This program is designed to be presented to one classroom at a time.
For more information contact Utah Film Center's Education Coordinator, Leslie Means, at lmeans@utahfilmcenter.org
---
About POPS
POPS (Professional Outreach Programs in the Schools) is an education outreach program in the fine arts that provides a mechanism for Utah's professional art organizations to assist in teaching the Utah's fine art core curriculum in the public schools. Professional organizations match state revenues to support and enhance the delivery of art education through demonstrations, performances, presentations, and educational activities in the schools. The program ensures that each of the 40 school districts have the opportunity to receive services in a balanced and comprehensive manner over three years.
Utah Film Center POPS 2015-2016 Final Annual Report