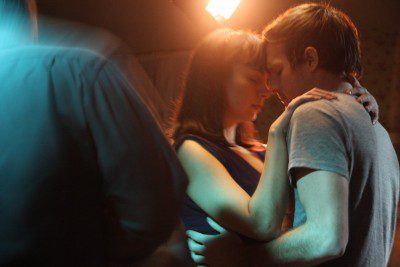 « Back to Events
This event has passed.
Event:

NATIVE VOICES: Short Film Program

Date:

Wednesday, March 27, 2013

Time:

7:00 PM
Venue:

Address:


410 Campus Center Dr.

,

Salt Lake City, UT

,

84112
Short Film Program
Not Rated | 58 min | USA and Canada
NAPI
Directed by Damien Eagle Bear
10 min | USA
Napi comes to town! To the left, to the right then finally down the middle, he shook the rattle. He had no place to hide. The rushing buffalo passed and took hold of him. With that he went over the edge of the cliff. This is one of the amazing stories that befall Napi on a daily basis. To say he is an adventurer would be quite accurate however he is something far more intriguing, a trickster. Tricksters permeate through almost all Aboriginal cultures. Napi is no different for the Blackfoot people. He has had a lasting affect on generations of Blackfoot. Here in this documentary, Napi runs rampant as four elders from the Blood Tribe, the largest tribe in the Blackfoot Confederacy, tell their tales of Napi. Along the way they give their thoughts and knowledge of who Napi is and how he has affected their world. This biographical documentary explores the character that is Napi and some of the adventures he gets himself into.
REZ BALL
Directed by Myrton Running Wolf
8 min | USA
A talented young basketball player feels her life is pre-destined to be hard and brutal on her crumbling American Indian Reservation.  Her only hope is to go to college. However, she cannot afford the price tag.  Her solution – earn an athletic scholarship to pay for school and find freedom from her harsh surroundings.  She excels on the high school court but outside in the very real Reservation world, she must live and practice in desolation and violence and find her way onto her blacktop court.  This is where she faces her biggest test.  This is where she learns to play Rez Ball.
OK BREATHE AURALEE
Directed by Brooke Pepion Swaney
16 min | USA
This could be a film about a woman wanting a baby and all the things she does to try and get what she wants.  Some might say it's an experiential film that puts the viewer into an odd mindset.  It could also be labeled as a Native identity film about an adopted woman discovering her past.
THEY GROW TOGETHER
Skatne Ronatehiarontie
Directed by Marion Konwennonhon Delaronde
7 min | USA
Skatne Ronatehiarontie – They Grow Together is an animated re-telling of a traditional Mohawk story, told in the Mohawk language. Using a unique combination of 3-d and 2-d animation techniques, it is the story of a grandfather explaining the traditional ways of farming to his grandson. In the grandfather's tale, Corn, Squash, and Beans, staples foods of the Mohawk people, are personified in their spirit forms. Corn takes the form of a man in search of a wife, with Squash and Beans as his potential brides.
GESTURE DOWN (I Don't Sing)
Directed by Cedar Sherbert
10 min | USA/Mexico
The filmmaker shares a poetic and personal reflection of his journey south from California to Mexico in search of the "last" traditional Kumeyaay singer. The work was inspired by James Welch's poem, "Gesture Down to Guatemala."
SHIMÁSÁNÍ
Directed by Blackhorse Lowe
15 min | USA
In the late 1920s on the serene Navajo reservation, Mary Jane decides whether to retain her traditional lifestyle at home with her másání (grandmother) or seek a new life "just over the mountain."
Presented as a complement to the Utah Museum of Fine Arts Bierstadt to Warhol: American Indians in the West exhibit, the Utah Film Center is partnering with UMFA to present a series of two feature films and a shorts program from Native American filmmakers, whose work represents an evolution of the Native American storytelling tradition.
iCal Import
+ Google Calendar