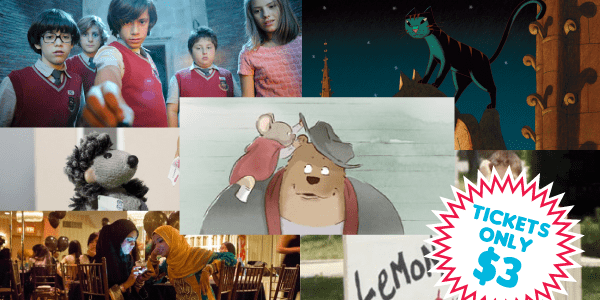 May 9, 2014
Moab – The Utah Film Center is bringing the Tumbleweeds Film Festival for Children and Youth to Moab May 9-10. The only festival of its kind in the Intermountain West, Tumbleweeds will feature independent, documentary, and foreign feature-length films and short films at Star Hall.
"This is the first time the Utah Film Center has taken the Tumbleweeds experience on the road, and we're excited that our partners SHIFT and Spy Hop can also join us. We've been screening films on a monthly basis in Moab for nearly three years and have had a great response from the community. We hope film lovers of all ages will join us throughout the weekend," says Patrick Hubley, Utah Film Center artistic director.
Committed to presenting films with high production and storytelling values, Tumbleweeds aims to inspire creativity and introduce younger audiences to films from around the world. In addition to six film presentations, the two-day festival format includes workshops for youth presented in partnership with Spy Hop and SHIFT. Middle and high school teachers are encouraged to attend a free two- day workshop offered by SHIFT, to learn the essentials of how to integrate digital media into the classroom.
One foreign film will be screened in its original language with English subtitles. For those interested, "subtitle readers" will be available via individual headsets to increase comprehension.
2014 TUMBLEWEEDS MOAB FILM FESTIVAL LINEUP
Opening Night | Friday, May 9 | 7pm | Star Hall:
Ernest & Celestine /// Ernest et Célestine
Directed by Stéphane Aubier, Vincent Patar, Benjamin Renner
80 min | 2014 | France
Recommended for all ages
Presented in English
An Academy Award® nominee that was based on the Belgian book series by Gabrielle Vincent, Ernest & Celestine tells the story of two unlikely friends. Celestine is a young mouse in an underground land where cautionary tales of bears are told and all mice are destined to become dentists. Celestine and Ernest the bear set out against the odds to prove their friendship is possible in this delightful and beautifully animated film.
Recommended for all ages
FUN FOR EVERYONE!
Shorts Program I
Saturday, May 10 | 9:30am | Star Hall
Filled with humor and energy, this delightful collection of short films offers fun for the whole family.
A Cat in Paris /// Une Vie de Chat
Directed by Jean-Loup Felicioli and Alain Gagnol
70 min | 2010 | France
Presented in English
Saturday, May 10 | 11am | Star Hall
By day, Dino the cat is the loving companion of Zoe, a mute child whose mother Jeanne is a detective with the Parisian police force. By night, Dino serves as the nimble accomplice to Nico, a skilled burglar. An enchanting medley of gravity and mischief, this French animated film is sure to delight both young and old.
Nominated for an Academy Award® for Best Animated Film, A Cat In Paris combines stunning hand-drawn and richly colored animation, a jazzy soundtrack, and action-packed adventure to create a wonderfully charming film.
Recommended for youth ages 8+
World's Best Shorts
Short Program II
Saturday, May 10 | 1pm | Star Hall
Clever, funny and moving this collection of short films from around the world is a wonderful introduction to the joys of international cinema.
Zip & Zap and the Marble Gang /// Zipi y Zape y el Club de la Canica
Directed by Oskar Santos
97 min | 2013 | Spain
Presented in Spanish with English subtitles
Saturday, May 10 | 3pm | Star Hall
Zip & Zap, Spain's most beloved mischief-makers, land on the big screen in this action-packed escapade, which pits the comic book heroes against the nefarious headmaster of a rural reform school.
Recommended for youth ages 12+
I Learn America
Directed by Jean-Michel Dissard and Gitte Peng
93 min | 2013 | USA
English, Spanish, Polish & Urdu with English subtitles
Saturday, May 10 | 5pm | Star Hall
This engaging documentary follows a year in the life of five immigrant teenagers at NYC's International High School at Lafayette as they navigate the ups and downs of adolescence, while adjusting to a new life in America.
TICKET PRICES
Tickets can be purchased for $3 (including service charge) beginning May 9 at Star Hall.
A Tumbleweeds All-Access Pass can be purchased for $10. Passes provide single entry into the Opening Night pre-film reception, film screening, and entry to all Festival films on Saturday, May 10.
A Tumbleweeds Family Pass can be purchased for $35. Family Passes provide families with entry to the Opening Night film and all Festival screenings on Saturday, May 10.
To purchase passes visit: http://www.utahfilmcenter.org/moab
TUMBLEWEEDS LOCATION
Star Hall: 125 East Center Street, Moab, UT
FREE TUMBLEWEEDS WORKSHOPS
Participants must register for workshops prior to attending.
Film MAGIC
Saturday, May 10
Workshops for ages 10+: 10am-12pm
Workshops for ages 7-9: 2-4pm
In this workshop presented in partnership with Spy Hop, bring your cool ideas to life through film, music and animation. Work with a group to make stop motion scenes, write music with GarageBand and even put yourself in a live action movie! Register here: http://www.utahfilmcenter.org/moab
Adobe Youth Voices/SHIFT Workshop
Friday and Saturday, May 9 and 10 | 8:30 am – 5pm
During this intensive workshop presented in partnership with Adobe Youth Voices and SHIFT, participants will work in teams to produce a variety of short films, such as public service announcements, documentaries, instructional videos, and personal narratives. Participants will be trained on equipment they have access to in their schools, including Windows MovieMaker, iMovie, video and still cameras, and tripods. Although this workshop is free a $100 refundable deposit is required to secure registration. Register here: http://www.utahfilmcenter.org/workshop14
WORKSHOP LOCATION
The MARC: 111 East 100 North, Moab, Utah
Festival website: http://www.utahfilmcenter.org/moab
Tumbleweeds is generously sponsored by the Sorenson Legacy Foundation, Zions Bank, Art Works for Kids, George S. and Dolores Doré Eccles Foundation, University of Utah Health Care, Adobe Youth Voices and Red Rock Pilates.
***
The Utah Film Center brings the world of film to local audiences through free community screenings and discussions, outreach programs, and visiting artists and professionals. Emphasizing social content and artistic excellence, we present the best documentary, independent, and dramatic cinema year-round. We collaborate with various educational and community organizations to promote a diversity of ideas, to provide forums for underrepresented groups, and to develop new audiences for film. For more information call (801) 746-7000 or visit http://www.utahfilmcenter.org/.
iCal Import