On Wheels is a road movie, a coming of age drama, aimed at a young audience. Lucas, a 13-year-old boy, is wheelchair-bound after suffering an accident. Laís, a 12-year-old girl, helps her mother selling breakfast at a truck stop, in the small town where they live. The girl would love to meet her father, a truck driver who left when she was a child and never returned. Laís and Lucas become friends in school, and when she finds out where her father lives, the two set off on a trip.
---
Presented as part of Utah Film Center's Kidvember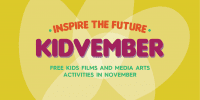 ---
How To Watch
This film is presented as a limited time on-demand screening, once started you will have 48 hours to finish watching it.
Click the Streaming link button at the top of the page to be taken to the film screening. This live stream screening is hosted on Eventive.org which offers apps for Apple TV and Roku, additionally, you can watch on your computer, phone, or tablet and can "cast" to your TV using a Chromecast, FireTV, Roku, and Apple TV. Wondering how to connect your computer or mobile device to your TV? Check out our overview of wired and wireless options.
---