Presented as part of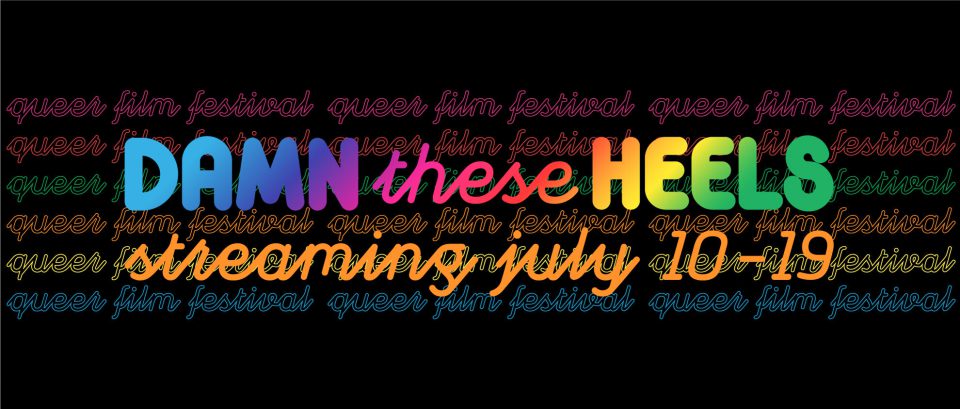 About the Drive-In
Ticket now on sales! Please note, ticket sales end Friday, July 10 at 11:59pm.
Drive-in located in the parking lot just south of the Days Of 47 Stadium inside of the Utah State Fairpark.
Gates open at 8:00pm
Madazon Can-Can and her company of Drag King and Queens show at 9:15pm
The film will start at 9:45pm and end around 11pm.
Large vehicles will be parked in the back. Sorry, no passenger vans or diesel engine trucks permitted, and lift gates/hatches cannot be raised if the view of other guests is blocked. The movie is to be watched from inside your car or within your designated parking stall. Masks are required upon leaving your designated area. Social distancing and mask-wearing will be enforced in all public areas.
Discounts and Reserved Parking
Festival passholders receive 20% discount ($5 off) on one ticket.*
Want the best view of the film? Become a Damn These Heels donor (starting at $175) to receive one complimentary ticket plus a reserved parking spot.*
*Passholders and Donors – discounts are automatically applied to your account when you're logged in. Click here to get your tickets today.
About the Film
Jack, or Sabrina as he's known in drag, runs a contest for female impersonators in this 1967 documentary, beautifully restored in 2019. The film follows preparations to the big night, where one queen will be crowned Miss All-America Camp Beauty. Throughout, we're the fly on the wall in apartments and hotel rooms, where men prepare and smoke and chat. Topics that naturally arise give a glimpse into gay life in the 60s – draft dodging or clear-out draft rejection, sex-change operations, and family acceptance. Being a time capsule of a film, even simple elements, like the cigarette haze in the air of every room, take on a certain magic. The contestants wear extravagant evening dresses made of tulle so full that you can feel them swish by; they cake on makeup as heavy as cement, resistant to most everything but scorching stage bulbs; they pull their hair under teased wigs and chests into pointed bras. Most endearingly, they perform for each other. Perhaps men in a drag contest would be comfortably showy anyway, but they seem entirely unaware of the camera, giving us the feeling that we're with them, candidly. As we move from behind the curtain to the spotlight, we see there are those who've come to put on a costume and then go home, and those who live in the characters they've created.
– Mara Lemesany
"A gutsy, funny… really very moving documentary."
– Roger Ebert, Chicago Sun-Times
"The mother of all drag documentaries."
– Mekado Murphy, The New York Times
"Extraordinary. In making his documentary, Simon is filming the participants committing and confessing what at that time were criminal acts; they display their confidence in him, and also their defiant sense of shared purpose, in their poignant confessions and indelible testimonies about the lives of gay men in the time before Stonewall."
– Richard Brody, The New Yorker
"A riveting chronicle of a 1967 drag competition."
– Melissa Anderson, The Village Voice
"Before Pose, RuPaul's Drag Race, and Paris is Burning introduced the art of ballroom eleganza and drag excellence to audiences around the world, Frank Simon's 1968 documentary The Queen cast a glistening spotlight on the cutthroat world of drag pageantry."
– Joey Nolfi, Entertainment Weekly
"A beautiful film; its subject matter is treated with such sensibility, taste and compassion that what might have been a grindhouse movie emerges as an impressive human document."
– Judith Crist, New York Magazine
"Extraordinary."
– Renata Adler, The New York Times
"Simon's movie is…extraordinary because it captures so much, doubling as a time capsule of a generation's innocence and fashion-forward sophistication. You can tell why it functioned as a template for many future gender-nonconforming people looking for some sort of pre-internet guide through the confusing maze of sexuality and gender."
– Jerry Portwood, Rolling Stone