Directed by Faythe Levine and Sam Macon
Not Rated | 90 min | 2013 | USA
Director Faythe Levine (bio) will be in attendance for a post film Q+A
There was a time, as recently as the 1980s, when storefronts, murals, banners, barn signs, billboards and even street signs were all hand-lettered with brush and paint. Today, the proliferation of computer-designed, die-cut vinyl lettering and inkjet printers has ushered a creeping sameness into our landscape. Fortunately, there is a growing trend to seek out traditional sign painters and a renaissance in the trade. SIGN PAINTERS is a history of the craft and features the stories of more than two dozen sign painters working in cities throughout the United States.
Presented in partnership with




Directors Bio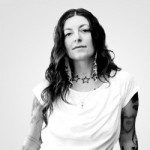 Faythe Levine works as an independent researcher, multi-media artist, curator, author, and collector. She's based in Milwaukee. Faythe's current focus is Sign Painters, a documentary and book about the trade of traditional hand lettering in America. She curates Sky High Gallery in Milwaukee and produces the annual event, Art vs. Craft, also in Milwaukee. Her personal artwork and writing have been published and exhibited internationally in both formal and renegade outlets. Levine's first book and film Handmade Nation: The Rise of D.I.Y. Art, Craft and Design (Princeton Architectural Press, 2009) received widespread attention. She keeps track of her work with slightly obsessive updates via various social media channels and visually on her website, where she documents her community-based projects, travels, and experiences.