Ten-year-old Toda lives in a bakery with her dad, the best pastry chef in town. Toda knows everything there is to know about cakes and pastries and loves it when her dad plays the trumpet. But one day, everything changes: her dad is called away unexpectedly to defend his country. Toda has to undertake an adventurous and challenging journey to the unknown neighbouring country where her mother lives in order to stay safe. On the way she meets strange people, encounters absurd situations and finds a special new friend. Toda is a bright, optimistic and resilient girl who doesn't give up easily, but will she eventually find her mum?
---
Presented as part of Utah Film Center's Kidvember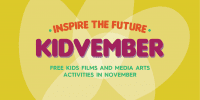 ---
How To Watch
This film is presented as a limited time on-demand screening, once started you will have 48 hours to finish watching it.
Click the Streaming link button at the top of the page to be taken to the film screening. This live stream screening is hosted on Eventive.org which offers apps for Apple TV and Roku, additionally, you can watch on your computer, phone, or tablet and can "cast" to your TV using a Chromecast, FireTV, Roku, and Apple TV. Wondering how to connect your computer or mobile device to your TV? Check out our overview of wired and wireless options.
---