It's time to go back to school! Students around the state are back on campus this month, and so is the Utah Film Center. This fall the Creativity in Focus films series—presented in partnership with the Utah Museum of Fine Arts (UMFA), and held on the University of Utah campus—will be re-launched.
Creativity in Focus highlights the lives and processes of various artists and explores the pressures, concerns, and influences that shape their work. All films will begin at 7 pm, and will be presented in the auditorium at the UMFA.
The first film in the series, Ai WeiWei: The Fake Case, screens during the first week of the University of Utah's fall semester on August 27. Appealing to students, teachers, artists, and art-lovers alike, The Fake Case follows well-known Chinese contemporary artist, Ai WeiWei as he critiques his government and makes work that reflects his concerns. Please join us for this eye-opening and intimate film!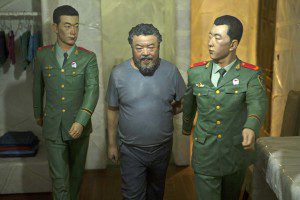 All Creativity in Focus films are free and open to the public and are presented in partnership with the Utah Museum of Fine Arts. Additional support is provided by Salt Lake City's only contemporary nonprofit gallery, CUAC, and downtown's newest fine art gallery, Modern West.
AI WEIWEI: The Fake Case
89 min | 2013 | Denmark | Not Rated
Directed by Andreas Johnsen.
Presented in English and Mandarin with English subtitles.