By Geralyn Dreyfous, Utah Film Center cofounder & Board Chair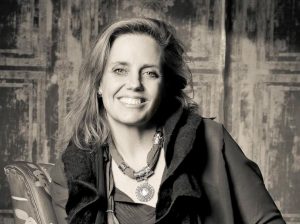 It has been three months since the Utah Film Center fire, and it has been an emotional time for me as one of its founders.
I chose to title this blog, Rising From Ashes not to be hyperbolic or cliche, but because it is also the title of one of the most popular films that Utah Film Center has screened across the state, first for a garden party at Ambassador Price's Salt Lake home, and then for Adobe employees at the company's  new headquarters in Lehi. The film is about the improbable journey of the first ever Rwandan Olympic cycling team. The subjects were all genocide survivors, and their coach Jock Boyer was the first American cyclist to compete in the Tour De France. The storyline is really about pain and loss, what they learned and taught each other from genocide, and starting over.
Jock Boyer fell from grace in 2002 after being convicted of lewd behavior with a minor.  After finishing jail time and probation, he was cajoled to go to Rwanda. The film crew finds him there still, ten years later.
Boyer's last U.S. residence was Moab, UT. As you know, Utah is a state of avid cyclists and a growing and successful Tour of Utah race. Rising From Ashes is a perfect crowd-pleasing film that also shared deep insights into the aftermath of grief and the trauma of genocide. The director, TC Johnstone brought the film and cyclists from Rwanda to Utah five times. Since then, Utahns have raised money to support these cyclists in Rwanda, Eritrea, and Somalia, and the film team has also raised money to protect trails in Moab with the Moab Mountain Bike association. In addition, a local company called Open Air Cinema also developed a portable screen and bicycle/projector system that generates power through peddling and has donated them to the Rwandan Film Festival and Team Rwanda to allow films to travel in a country whose infrastructure was ravaged by genocide.
Why do I tell you this? Certainly not to suggest the Utah Film Center's recent losses are anything comparable to what the subjects faced in that film, but to tell you these stories matter. They make a difference. They connect us to the world and they reciprocate with friendships and partnerships that live beyond their actual exhibition in a theater.
TC Johnstone, was one of the first responders after the March 29th fire. The Film Center, through the fiscal sponsorship program, helped him incubate his first film, and he and I are now working on another film together that will be fiscally sponsored by Utah Film Center called Ghost Fleet: Seafood from Slaves. Johnstone is not just a fiscally sponsored artist, he is a friend, innovator, teacher, and collaborator with Utah Film Center. He was one of hundreds of emails, texts and FB posts and gofundme donations that came in from filmmakers and investors all over the world following the fire.
The loss of our building has been devastating and really set Utah Film Center back financially.  Personally and professionally I lost letters, photos, an archive from Born Into Brothels, and a film library of over 100 films I helped produce or finance. The films of course can be replaced, but like good books on a shelf, they were a reminder of where I have traveled, how I have been blessed, and what I have learned along the way. I rarely took the films out to review, occasionally lent them to folks to watch, but there was something stabilizing and comforting about having them in my book case at the office.
But what I have learned from this fire is that good things really do come from loss. I would not wish it on anyone, and I resist the "blessing in disguise" metaphor because it has been a tedious, grueling, emotionally frayed, and fraught 12 weeks for our staff, but I am inspired by the impact our films have had on our community and in communities as far away as Rwanda. These stories–though the discs we had at 122 South Main Street are gone–will live on and the community we have built locally and globally will stand with us because we have made a difference. Together we will move forward with even deeper respect and admiration of each other.
In the months that have past, the Film Center has recouped much of our losses through donations as small at $1 and as large as $25,000. We have continued our programming with record attendance while working remotely and coming together twice a week at UMOCA, the City Library, and as guests of the fabulous Babs de Lay. We are now practically baristas having held meetings and office hours in every coffee house in Salt Lake City and been treated to food, laughter, and new friendships from the owners of Cucina Deli, The People's Coffee, and Publik and we are grateful for all of the folks who have collected money on our behalf either informally or formally at events like Fiesta del Fuego hosted by Rico Brand or at We Didn't Start the Fire hosted by Diane and Sam Stewart.
The fire has forced us to be creative and rethink our work in very imaginative and radical new ways, and, for the first time, I am able to see this fire not as a tragic accident, but liken it more to a forest fire that makes room for new growth and rebirth. Something beautiful is being born and it is exciting to see where it will go and grow. But that only has happened because of the generosity and responsiveness of this community we have and the resilience and teamwork of the Utah Film Center staff. It has been astonishing and inspiring.
From our first responder on staff, Patrick Hubley rescuing films out of the fire, and then putting one up on a screen less than ten hours later, to Mario Herbst turning his garage into a cinder-infested repository for all our financial records, to Jeff Horne, Maxime Coue, and Mike Patterson leading the cleanup process, to Dana Hernandez getting a gofundme campaign up in 48 hours, to Elisabeth Nebeker, doing around the clock media and managing forensic audits and insurance liability claims, to Mariah Mellus securing free office equipment and furniture from Western Interior Services for our eventual home, to Josh Levey managing to secure our data and connecting us all virtually as we work from home, to Suzi Montgomery, Rick Wray, and Leslie Means working together on Fiesta del Fuego, to my assistant Sarah Mohr who has been unflappable and steadfast for the entire staff, and to our development team made up of Carly Nelson and Laura Berbusse, who have been agile and gracious and even made dialing for dollars fun! Everyone has a roll-up-their-sleeves, get-the-job-done attitude. The work has been dizzying, but the creativity and camaraderie has been dazzling.
The community leadership has been equally impressive. Scott Anderson was at our office at 6am the morning of the fire. I got calls from Mayor Biskupski by 7:30 am and then the invitations for housing, food, clean up, and donations began pouring in. I am very proud of the Utah Film Center staff and to be part of this community. The destructive flames themselves had nothing on the intensity of the love we have felt from everyone.
In 2007, Jock Beyer and Team Rwanda expanded their training to other cyclists in Somalia and Eritrea. They are now working toward having the first Pan African team to compete and win the Tour de France. Hence, they have changed their name from Team Rwanda to Africa Rising. Similarly, in 2007 we changed our name from the Salt Lake Film Center to Utah Film Center because our programming expanded statewide. In 2017 expect to see us rising and expanding with new ideas, programs, and collaborations! Even though I have evoked and resisted cliches throughout this blog, I do unabashedly say "the fire is in our bellies" now, and we are more determined and convinced that film has a unique role in our cultural landscape and an even deeper and perhaps more everlasting role in building friendships, sustaining relationships, and creating community.
Thank you for standing with us.