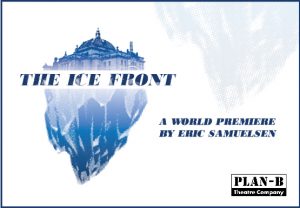 Tuesday, November 7 @ 7:00 PM
Rose Wagner Studio – Rose Wagner Performing Arts Center
138 W 300 S, Salt Lake City
Plan-B Theatre Company is presenting an exclusive preview performance of The Ice Front for Utah Film Center supporters with all proceeds of the night benefiting us. We are taking the night off our weekly free film programming to allow everyone to tune into Election Day, but if you're looking for something to do or another way to support us, then we invite you to join us!
This show is recommended for middle school students and up. For a donation of $20, you will gain access to this preview!
About The Ice Front:
The actors of the Norwegian National Theatre find themselves in an uneasy truce with Nazi cultural authorities during the German occupation of Norway. When they are forced to perform a Nazi propaganda piece, conscience comes face-to-face with The Final Solution. The Ice Front honors the heroism of and dangers faced by the trilogy of Nazi victims – Jews, Roma and Homosexuals – by questioning what it means to be an artist, to be a patriot, to be human.