SHIFT: Professional Development
SHIFT changes how teachers teach and students learn.
Utah Film Center's SHIFT program offers grades 4-12 educators immersive, high-quality professional development and curriculum that supports the integration of the filmmaking process into educational settings. Workshops and instructional materials provide comprehensive, standards-linked lesson plans to guide educators on how to produce documentaries, public service announcements (PSAs), instructional videos, personal narratives, and other short film projects with their students. The SHIFT model is committed to strengthening teacher practice, increasing student achievement, and developing critical thinking, problem-solving, and communication skills.
No Upcoming Events
Check Back Soon!
Welcome educators and youth leaders!
If you work with youth in school or out-of-school, and are interested in integrating the filmmaking and other digital storytelling strategies into your instruction, SHIFT can train and guide you on how to produce documentaries, public service announcements (PSAs), instructional videos, personal narratives, and other short film projects with your students.
Our workshops and ongoing trainings are most often grant funded (and therefore at no charge to you). We work with school districts and partner with community organizations to customize professional development experiences for educators to fit the needs and geographic location of desired participants. Please check our upcoming workshops page to find a workshop that works for you.
Our Goals
1
Inspire
Teachers
---
Inspire teachers and increase the use of creative technology integration.
2
Excite
Students
---
Stimulate classroom climate and excite students through the learning process.
3
Increase
Achievement
---
Increase student achievement through enhanced instruction.
SHIFT Workshop Models
We understand that teachers' plates are most often full. For that reason we offer distinct professional development workshop models to accommodate busy schedules.
Year Long
Intensive Model
---
Begins with a 2 to 3-day intensive training followed by quarterly or monthly trainings throughout the school year.
Lite
Model
---
Customizable to fit your schedule and training needs. Typically it is a stand-alone hands-on 2 to 3-day workshop that walks educators through the filmmaking process and how that integrates into content instruction.
Introductory
Workshops
---
1 to 3-hour experiences typically at conferences and festivals that start with a youth media overview and introduces educators to the digital storytelling process and resources.
Workshop Objectives
Understand the fundamentals of the filmmaking process. Integrate creativity and relevant new technology to enhance teaching and learning.
Design standards linked lesson plans involving the cinematic process.
Celebrate the vision and voices of an emerging generation through digital storytelling.
Feel more confident with project-based learning. Integrate critical and inventive thinking in the classroom.
Participant incentives vary depending on the commitment level – all workshop participants receive a standards-linked SHIFT Filmmaking Curriculum Manual and eligible educators receive professional development credit for participating. To apply or register, please consult our "Available Workshops" tab.
2017-18 Annual Report
How do I get started?
How is filmmaking relevant and helpful to delivering the necessary content to my students? SHIFT's highly praised and teacher-friendly curriculum guide makes implementing media arts in the classroom accessible and relevant.
The 244 page resource guide, Learning in Focus: A Curriculum Guide to Engage, Teach, and Inspire Students through Filmmaking, contains five instructional units broken down into succinct lesson plans and a supporting thumb drive containing over 30 youth-produced short films, and digital versions of every handout.
These units are:
Unit One: Filmmaking Bootcamp
Unit Two: Personal Narrative
Unit Three: Instructional Video
Unit Four: Public Service Announcement
Unit Five: Documentary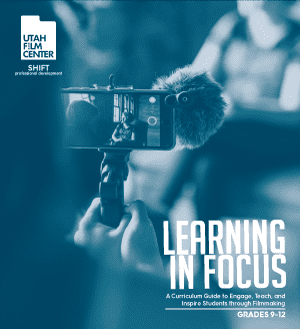 Curriculum Guide: Grades 9-12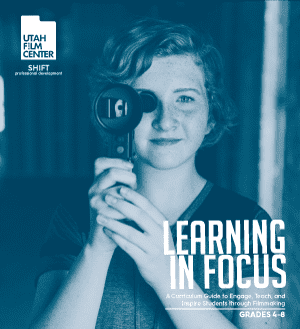 Curriculum Guide: Grades 4-8
Each media-rich unit consists of an average of seven lesson plans and two assessment rubrics and each lesson has been linked to relevant academic standards, including:
Common Core State Standards (CCSS): English Language Arts
International Society for Technology in Education Standards for Students (ISTE-S)
National Council of Teachers of English (NCTE)
New Media Arts Standards
Click below to preview the Table of Contents and curriculum samples from Unit One: Filmmaking Bootcamp and Unit Five: Documentary from this highly regarded instructional resource.
Order a copy of Learning in Focus: A Curriculum Guide to Engage, Teach, and Inspire Students through Filmmaking.
*SHIFT provides a complimentary curriculum guide to every teacher who participates in their professional development training.
Below is an ever-evolving list of resources we find useful and believe you will as well!
Click 'Show Resources' under header to view resources.
Filmmaking Essentials: Information about filmmaking equipment and general elements of the filmmaking process (also refer to the Curriculum and Resources section at the bottom of this page)
Filmmaking Apps: Filmmaking applications to use on mobile devices and/or computers

Audio Making Essentials: Podcast Sites & techniques for capturing good audio in film production

Copyright For Educators: Resources that explain the legal issues related to the music, video, and pictures in digital projects.  Note: These materials should not be understood as legal advice.  For legal advice about a particular problem or concern, always consult a qualified lawyer.

Copyright Free Resources for Video, Music, Sound Effects & Images: Refer to each site for copyright related to the site's media.
Editing Software & Tutorials: Tutorials on multiple software platforms used in post-production stage of filmmaking
Distribution & Exhibition: Resources about sharing student work with a larger audience and sites for uploading student work.

Movie Media Galleries: Movies and other media projects produced by students, teachers, and professional filmmakers.

Media Literacy: Resources to help teach and strengthen students' understanding of media literacy and their role as media consumers and producers.

Project-Based Learning: Resources to help teachers construct and implement project based learning experiences in the classroom.

Curriculum Resources & Lesson Plans: Digital media curriculum and lesson plan ideas for teachers to use and modify in the classroom.

Professional Development:  Sites with workshops or opportunities to enhance your teaching profession.
---