Brave, funny, and one of a kind: that's Rocca. Rocca is eleven years old and lives a rather unique life. While her dad is watching over her as an astronaut from outer space, Rocca lives alone with her squirrel and is attending a normal school for the first time in her life. At school her carefree and non-conformist way of life instantly stands out. She fearlessly confronts the class bullies, because first and foremost Rocca stands up for justice. That's why she makes friends with the homeless Caspar and tries to help him. All the while she is also attempting to win over her grandmother's heart. With never-ending optimism Rocca proves together with her new friends, that even a child has the power to change the world.
---
Presented as part of Utah Film Center's Kidvember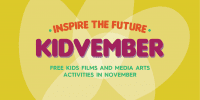 ---
How To Watch
On November 10 at 7pm, the film will be available for 24 hours to start watching, and once started you will have 48 hours to finish watching it.
Click the Live Stream link button at the top of the page to be taken to the film screening. This live stream screening is hosted on Eventive.org which offers apps for Apple TV and Roku, additionally, you can watch on your computer, phone, or tablet and can "cast" to your TV using a Chromecast, FireTV, Roku, and Apple TV. Wondering how to connect your computer or mobile device to your TV? Check out our overview of wired and wireless options.
---