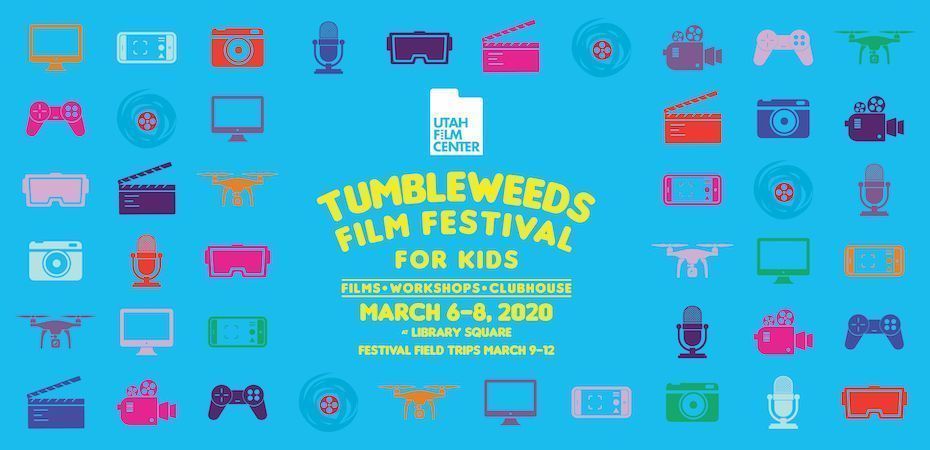 Utah Film Center's 9th annual Tumbleweeds Film Festival for Kids takes place March 6–12, 2020 at Library Square. Tumbleweeds, the Mountain West's only international film festival for families, presents new, culturally-enriching, curated cinema for ages 4 and up. Audiences will see the best animation and live-action film from around the world, participate in media arts workshops, and explore a variety of activities designed to balance visual content, active play, and critical thinking.
The Festival is open to the public the weekend of March 6-8, with Festival Field Trips offered free of charge to schools March 9-12.
More Than Films
In addition to films from around the world, Tumbleweeds offers Workshops and Clubhouse activities. Workshops give kids the opportunity to connect directly with experts in the virtual reality, sound effects, filmmaking, and film makeup fields to deepen their appreciation for the craft and inspire them to dig deeper into the elements of a story. The Tumbleweeds Clubhouse is free for all Library Square patrons and features craft and technology activities that offer an exciting and fun approach to storytelling and creativity.
Who Goes to Tumbleweeds?
Kids of all ages! Films are programmed with an eye toward introducing young audiences to the joys of international and independent cinema. Parents and adults will enjoy films that have interesting universal themes and messages. Plus the Clubhouse and Workshops are a great way to learn and experience interactive media.
What Films are Playing at this Year's Festival?
Films, Workshops, and Clubhouse activities will be announced starting in January. To see what was offered at the 2019 Festival click here.
Where is Tumbleweeds?
The 2020 Tumbleweeds Film Festival takes place at Library Square in downtown Salt Lake City. Activities are scheduled to take place at both The City Library (210 E 400 S) and The Leonardo (209 E 500 S).

 How We Handle Subtitles
Tumbleweeds features the best films for kids from around the world and many of these films are from countries whose primary language is not English. When films are presented in a foreign language we present the screenings with English subtitles, but to make it easier for our young audience (and older ones when requested) we provide listening devices, headphones with adjustable volume that feature a subtitle reader reading the subtitles.
Tickets and Passes
Festival passes will go on sale in December with individual film and workshop tickets going on sale in early February. Clubhouse activities are free and do not require tickets.
We strive to keep Tumbleweeds affordable through the generosity of Friends of the Festival, which include individual, family, foundation, and corporate sponsors.
Friends of the Festival
Family and corporate sponsorships help ensure Utah families have access to diverse stories and creative experiences. Financial support for Tumbleweeds Film Festival offers unique recognition opportunities and great benefits, while encouraging investment in Utah's film and arts culture by the next generation. This Festival is possible through broad and diverse community support.
For more information about supporting the Festival or to discuss ideas for supporting the Festival please email our Development team at development [at] utahfilmcenter.org.
Want Free Tickets? Volunteer
Tumbleweeds is a fun-filled event, that is also a big undertaking that relies on volunteers to make it a success. In exchange for volunteering you can receive tickets, passes, and even Utah Film Center memberships.
Check back soon to learn about shifts and incentives available.
Tumbleweeds Film Festival Generously Supported By
Photos from Recent Tumbleweeds Film Festivals