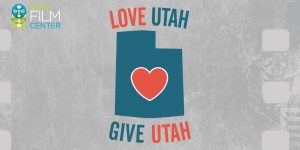 The Utah Film Center is taking over Cucina Deli beginning at 9am on Thursday, March 26th to celebrate LOVE UTAH GIVE UTAH.
Stop by Cucina Deli (1026 2nd Ave, Salt Lake City, UT 84103) for one, all, or in-between the following events to show your love for cinema! Cucina is generously supporting LOVE UTAH GIVE UTAH by donating 20% of ALL YOUR PURCHASES on March 26th to the Utah Film Center!
9-10:30am: CONVERSATION with our CREATIVE
Join Utah Film Center Artistic Director Patrick Hubley for a chat about film, media arts, and festivals. Cucina sells coffee, biscotti, and other goodies, so you can start your day off nourished, all while knowing you've supported the Film Center and a local business!
Patrick Hubley is currently the Artistic Director of the Utah Film Center and Director of the Tumbleweeds Film Festival, TiltShift Festival, and Damn These Heels Film Festival. Patrick has had a life long passion for film, music, literature and the arts. Prior to the Utah Film Center, Patrick worked with the Toronto International Film Festival Group, Sundance Institute, Sundance Film Festival, CineVegas Film Festival, and the Dubai International Film Festival.
11:30am-1pm: LUNCH HOUR with the CRICKET
Spend your lunch hour at a Q&A session with Salt Lake Tribune Movie Critic, Sean Means. Cucina will have gourmet cuisine ready for you—remember 20% of sales support us!
Sean P. Means, a mild-mannered reporter for a great metropolitan newspaper, joined The Tribune in 1991. He has been movie critic since 1993, launched a movie column in 1999, started blogging in 2005, and took over the Culture Vulture column in 2008 (renaming it The Cricket in 2011). Besides movies, he covers visual arts and maintains the pop-music calendar.
5pm: CELEBRATE with the CREW
Show your love for the Utah Film Center by bringing your family and friends out to test Cucina's new dinner menu! Utah Film Center staff and board members will be celebrating Utah, film, food, and YOUR CUCINA dinner and drink purchases!
And remember, if you can't make it to Cucina during the day, we'll miss you and you can always schedule your gift. By giving $10 YOU have the power to keep film free STATEWIDE. Help us raise awareness, inspire local audiences, and preserve a cinematic culture!
Also, should the Utah Film Center receive the most unique individual donations on March 26th we will WIN an additional grant from The Community Foundation of Utah—YOUR $10 could make us $$$THOUSANDS$$$!